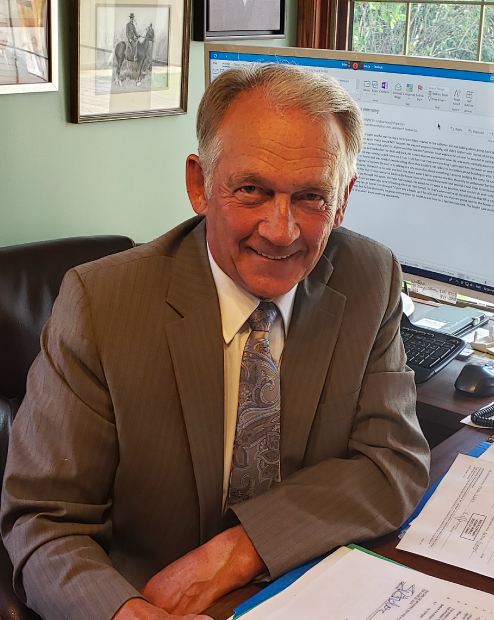 About Us
Proven legal expertise. Personal guidance.
Gordon Law Office is a boutique law firm located in Medicine Hat, Alberta, serving clients across Alberta and Saskatchewan. Our firm, founded by Lawrence R. Gordon, K.C., includes five experienced paralegal professionals. We provide a down-to-earth approach while offering comprehensive legal services in Real Estate Law, Corporate Law, Estate Law, and Agribusiness Law. Lawrence combines 50 years of professional experience as a lawyer with a commitment to integrity, accessibility, and positive client experiences.
Lawrence was born and raised on a mixed farm and ranch near Eastend, Saskatchewan. With his deep roots in the agricultural industry, Lawrence possesses firsthand knowledge of the challenges faced by farmers, ranchers, and landowners. He actively farmed with his brothers for many years and still retains ownership of farm land in the area.
Lawrence received his Bachelor of Laws from the University of Saskatchewan in 1973, and he was admitted to the Alberta Bar in 1974 and the Saskatchewan Bar in 1978. In recognition of his outstanding contributions, he was appointed a King's Counsel in 1988.
Beyond his legal accomplishments, Lawrence is actively engaged in the local community. He and his wife, Linda, are involved with Medicine Hat Musical Theatre, lending their talents to set construction for performances. Lawrence also enjoys travel, golfing, and spending quality time with his family.
With his years of experience and specialization in Corporate, Real Estate, and Estate Law, Lawrence possesses valuable insight into his clients' needs, allowing him to provide exceptional guidance and service.
At Gordon Law Office, we believe that legal matters should not be intimidating or distant. Our firm's philosophy centers around providing personalized guidance and support to every client. We are committed to creating an atmosphere of approachability and accessibility, ensuring that our clients feel comfortable and well-informed throughout the legal process. With a dedicated team of professionals, we strive to accommodate clients quickly and efficiently.
When you choose Gordon Law Office, you can expect proven legal expertise delivered with a personal touch. We take the time to listen attentively and understand your unique needs, tailoring our services to address your specific goals. Our unwavering commitment to integrity, professionalism, and positive client experiences is at the forefront of everything we do.
Whether you require assistance with farm, ranch, commercial, or residential real estate transactions, corporate and business-related matters, or estate planning services, we are here to help.